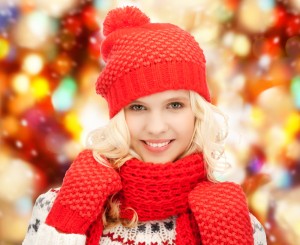 For most of us, gift-giving is just a holiday thing. Every year, we spend the time between Thanksgiving and December 25 looking for the perfect gift for those who are most special to us. But did you know there's a very simple gift you can give your loved ones, and even strangers, any time you want? It's your smile!
Believe it or not, smiling can have a remarkable impact on you and those around you.  According to scientific studies, it can improve one's mood and even relieve stress.
Here's how it works. When you smile, particular muscles in your face are stimulated. These muscles will, in turn, stimulate the part of the brain responsible for creating warm and pleasant feelings. Meanwhile, for those around you, a smile is simply hard to resist. Smiling at someone who's having a hard day may inspire them to smile back, triggering those same pleasant feelings in them. That's how smiling can easily become a gift you give someone else.
So, is the busy holiday season starting to wear you down? Practice your smiling. You may find that you start feeling better in no time. And why not make a New Year's resolution to smile more throughout 2014. Just like regular brushing and flossing and twice-yearly checkups, committing to smiling throughout the year will help you enjoy better overall wellbeing and confidence.