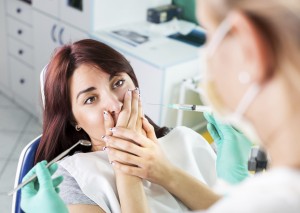 Did you know that over 70% of Americans have reported experiencing some level of fear or anxiety when faced with an upcoming appointment at their local dentist's office? These feelings are understandable, but they can also be dangerous for your oral health. After all, someone who dreads going to the dentist will put off needed appointments, allowing any problems they have to worsen to the point that they require even more time to fix. Thankfully, many practices now offer sedation dentistry, which can help patients relax and feel at ease during their appointment.
If the answer to any of the following questions is "yes," you may want to talk to your dentist about using sedation dentistry to increase your comfort level at your next visit:
Does the mere thought of visiting the dentist induce anxiousness, nervousness, or even terror?
Is it difficult for you to feel comfortable sitting still in a chair for a long period of time?
Do you have a sensitive gag reflex or constant jaw pain?
Do the sights, sounds, or smells of the dentist's office make you feel stressed?
Are you in need of multiple, lengthy procedures in order to restore your smile to full health?
Do you struggle with feeling ashamed of your teeth?
There are several kinds of sedation dentistry available for patients. Nitrous oxide (laughing gas) is the mildest type, inducing feelings of warmth and contentment that wear off quickly after the procedure is finished. More severe dental anxiety may be better treated with oral conscious sedation or IV sedation, which helps patients achieve such a deep level of relaxation that they often don't remember anything about their appointment. Please contact your local dentist to learn what kinds of sedation dentistry they offer and what they recommend for your unique situation.