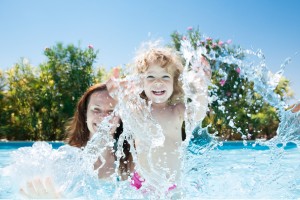 The temperature is on the rise and school's letting out for summer. Everywhere you look, people are heading out to the pool, to the beach, and to summertime parties with friends and family. Make sure that your smile is ready for summer with these top tips!
Keeping Your Smile Healthy All Summer Long
While you maintain your oral health at home with daily flossing and brushing, it's still important to visit your dentist twice per year for a thorough exam and cleaning. Summer is a great time to schedule these general dentistry checkups for kids because now they won't have to miss school for their appointment! Also, because many popular summertime beverages contain added sugar and citric acid (think lemonade, sports drinks, sodas, and wine spritzers), it is important to rinse your mouth often with a little water after sipping on these types of drinks. Be careful not to brush for at least an hour after your last beverage, though, because the substances within them can actually cause your enamel to become temporarily more susceptible to erosion.
Perhaps you're not comfortable with the state of your smile due to cosmetic flaws. Before summer is officially in full swing, why not treat yourself to one of the many cosmetic dentistry procedures offered at your dentist's office? Whether you opt for professional teeth whitening, porcelain veneers, or a full smile makeover, you'll be glad you did when you're finally able to smile with complete confidence.
Unexpected Causes of a Dingy Smile
Naturally, you'd love it if your teeth stayed radiantly white all summer long, allowing you to show off your smile freely whenever and wherever you'd like. Unfortunately, many of the activities in which we engage during the summer season can harm our smiles, including going to the pool frequently. How can going to the pool damage your teeth? If you go swimming every day and the pH balance of a swimming pool isn't just right, it can actually cause teeth to become yellow over the course of just a few weeks. Just remember to brush at least twice per day, or preferably after each meal!