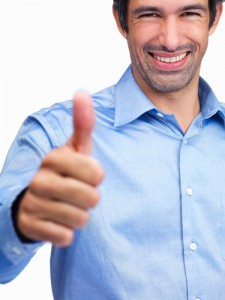 The Academy of General Dentistry reports that for many years, men have been "less likely to visit the dentist" than women because they don't see a need, they feel afraid or embarrassed, or they simply won't make time. This has been the status quo for a while now, but times are changing. These days, dentists are treating more and more men with – oddly enough – cosmetic procedures, like teeth whitening, veneers, and composite bonding.Why would men want a nicer smile? It's all about the money, baby.
One private company's study reveals that after teeth whitening, people are more likely to land a job – and a at a higher rate of pay. Another poll by the American Academy of Cosmetic Dentistry tells us that people with an attractive smile are considered more friendly, intelligent, and successful than others. In this economy, you can't afford not to invest in your image, whether you're a man or a woman.
So if you'd like a brighter, straighter, more attractive smile, talk with your dentist about cosmetic dentistry. Today's procedures begin at moderate prices, and for more complex smile makeovers, financing is available.