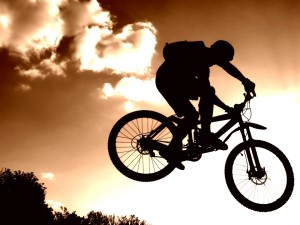 For many, summertime translates to an abundance of outdoor activities and sporting events. From baseball to soccer to cycling and many more, summer sports take advantage of the warm weather and allow us to exercise our winter-weary muscles. While you're gearing up for your next sporting event, don't forget to protect your most important summertime asset—your smile!
Here are a few pointers for optimal dental health while you're on the playing field:
Wear a Mouthguard – Studies show that 40% of all sports-related injuries involve the face. A custom mouthguard fabricated by your dentist will virtually eliminate the chance of tooth loss and oral injury. Studies show that a mouthguard can also reduce the risk of concussion. Unlike over-the-counter mouthguards, dentist-made mouthguards are thin, flexible, and molded to the contours of your teeth. With a custom athletic mouthguard, you'll be prepared to face the competition head-on.
Avoid Sports Drinks – Many athletes turn to sports beverages to quench their thirst and increase their stamina. What most people don't know is that these drinks contain ingredients that can harm tooth enamel. Studies show that the citric acid in sports drinks can cause tooth erosion, hypersensitivity, and staining. To prevent enamel erosion on the playing field, drink sports beverages in moderation, and ask your dentist about acid-neutralizing, remineralizing products to help re-harden softened tooth enamel.
H₂O For The Win! – Instead of sports drinks, consume plenty of water before, during, and after your game. In addition to cooling your muscles and hydrating your joints, water will wash away stubborn food particles and bacteria without damaging your teeth. Tap water containing fluoride can strengthen tooth enamel, as well. Proper hydration is one of the easiest ways to ensure you perform at peak levels.
Talk to your dentist about sports dentistry and ways to prevent sports-related oral injuries. Athletes who take measures to safeguard their smiles can enjoy more time spent outdoors and less time in the dental chair!