A Healthy Smile? It's Easy to Find! Remember to Brush & Floss Every Day!
February marks National Children's Dental Health Month, a time which the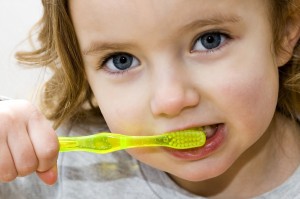 American Dental Association has set aside to encourage dentists, parents, and other adults to educate children on how to take care of their little smiles. And even though that's more than a week away, it never hurts to get a head start! Now's the time to help kids brush up on good oral health!
Here are some ways your children can maintain strong, healthy smiles that last a lifetime:
Brush at least twice a day – Regular brushing removes plaque from your teeth to help avoid unwanted cavities. If you have young children, you may want to brush their teeth for them. Brushing can be made fun for kids if you implement brushing charts, fun toothbrushes, and flavored toothpaste.
Floss daily – Flossing removes food debris from the tops and sides of your teeth, where a toothbrush can't reach. The latest scientific research shows that flossing can add as many as 10 years to your life. Plus, like brushing, flossing cleans teeth and controls bad breathe.
Eat healthy – A nutritious diet is essential to a healthy smile. Foods that are heavy in starch and sugar, including carbonated drinks, produce acid that causes tooth decay. Eating food as a meal, not as snacks, allows extra saliva to help rinse food from the mouth. Also, make sure your drinking water contains fluoride.
Visit your dentist – Regular checkups and hygiene allow you to receive professional assistance in maintaining optimal oral health. Your dentist may recommend a fluoride treatment or sealants, which are placed on chewing surfaces of the back teeth and premolars, to prevent tooth decay.
Wear a mouthguard – Studies show that up to 40 percent of sports injuries involve the face. Children who participate in physical and recreational sports should wear athletic mouthguards to protect and reduce injuries to the mouth and teeth. Dentists can make custom mouthguards to fit your individual smile.
If you want some extra help encouraging your children to practice good oral hygiene, the ADA has created activity sheets to make National Children's Dental Health Month fun and exciting! You can download the PDF document here.
This February and the days leading up to it, remember to not only teach your kids how to keep their smiles healthy. Show them! By setting a good example, you can give your children the boost they need to start taking care of their teeth. Plus, you can brush up on optimal oral hygiene yourself!