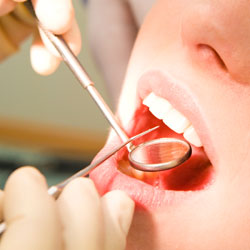 Why are we discussing cancer on a dental newsletter? Because dental health affects your overall health, and your smile is your dentist's business. Oral Cancer is a little discussed cancer that is on the rise, despite the overall decline in cancer rates. Why? Awareness. Many people simply don't talk about oral cancer. Your dentist wants to change that.
Every year, almost 30,000 Americans are diagnosed with oral cancer. Of these cases, 70% are discovered in the disease's later stages. As many as one fourth of those diagnosed didn't even participate in the risky behaviors commonly attributed to the disease, such a tobacco use or excessive alcohol consumption.
But did you also know oral cancer is highly curable if found early? This is why it's so important for you to visit your dentist for routine checkups every six months.
Regular Visits Can Save Your Life
There's never been a better time to call your dentist and schedule your next regular dental visit than National Cancer Control Month. Cancer screenings can be conducted quickly and easily, and are a part of your regular six-month checkup.
What is your dentist looking for? Common signs of oral cancer include:
A flat, painless, white or red spot or sore.
A sore that bleeds easily or does not heal.
A color change of the oral tissues.
A lump, thickening, rough spot, crust, or small, eroded area.
Pain, tenderness, or numbness anywhere in the mouth or on the lips.
Though some symptoms may be easily identifiable as they progress, spotting early signs of oral cancer takes a well- trained eye.  Your dentist may also use advanced technology, such as ViziLite or VELscope, to check for changes in gum, cheek, and tongue tissue.
Just think, at your routine office visit, your dentist might do more than fill cavities; he might save your life.
For more information on oral cancer, or to support life-saving research, visit The Oral Cancer Foundation.  Remember to follow your dentist's advice on prevention and detection of oral cancer. Your smile, and your health, are worth it!