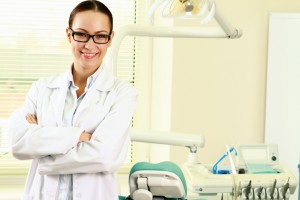 Now that 2014 is here, people are trying to stick to their resolutions and make a better version of themselves for the New Year. Though losing weight or being more organized are good resolutions, there is one resolution that is oftentimes overlooked, and that is the resolution to have a healthier smile. Believe it or not, making sure you are in tip-top oral health means many other parts of your body are healthier. For 2014, why not make the commitment to yourself to be a healthier you?
Dentists recommend you visit their office every six months. During a routine checkup, your dentist will do an oral cancer screening and check for periodontal (gum) disease, making sure there are no early signs and, if there are, treat it right away. They will look at every single tooth, checking for cavities, decay, cracks, and other possible harm. They will also do X-rays of your entire mouth, making sure there are no underlying problems that can't be seen.
Your dentist will also perform scaling and root planing during your checkup. The scaling is the dentist's opportunity to remove tartar from below the gum line, while root planing smoothes out the rough surfaces where plaque has built up.
By taking care of your dental needs, you reduce your risk of heart disease, oral cancer, severe tooth decay, and other possible health problems. You will be able to smile with confidence, knowing that your mouth is clean, healthy, and dazzling! Give yourself the gift of excellent oral health this year, and you will not be sorry!