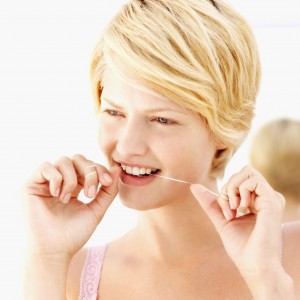 Flossing is a crucial part of dental hygiene, and one that shouldn't be taken lightly; after all, it's a tried-and-true method for getting rid of stubborn food particles that settle in hard-to-reach places between teeth, as well as an effective way to disrupt cavity-causing bacteria and keep them getting too comfortable. Of course, you might be thinking: how hard is it to drag some string between your teeth? Harder than you might think. Countless people make casual errors every day when flossing, and while it might not seem like a big deal at the time, you could find yourself in need of fillings or other restorative dental work before you know it. Here are five common mistakes that are made during flossing that you should watch out for:
When You Use the Same Section of Floss the Entire Time
As we said above, flossing removes harmful bacteria from between your teeth. Why would you want to move that bacteria around your mouth into new areas instead of getting rid of it altogether? It might seem wasteful, but when you use the exact same area of floss on multiple teeth, you can replace plaque that's already been removed into a brand-new home.
When You Skip the Teeth in the Very Back
While some of your teeth may have an open space next to them, it's still important to work the floss behind them and do some cleaning. By doing this, you can make sure to remove bacteria that sometimes finds its way between your tooth and gums.
When You Snap the Floss between Your Teeth
Some of your teeth have very tight adjoining spaces. When you notice an area like this, try not to force the floss so that it jumps down against your gums. Instead, work the floss back and forth until it slides through. Snapping the floss not only hurts your gums, but it can also cause them to recede. Gum disease might not be far behind, too.
When You Quit Because Your Gums Start Bleeding
We understand that the sight and taste of blood can be scary sometimes, but don't worry! You're not hurting your gums. You're just suffering from gingivitis, a condition that happens when your body sends more blood to the gums so that they can fight off growing plaque. You can alleviate this condition by removing that plaque with flossing. After a few days of dedicated flossing, your gums should return to normal!
When You Floss Aimlessly Without Keeping Track Of Your Teeth
You have a fair amount of teeth, and when you're flossing, it can be easy to become distracted and accidentally skip one or two. Creating a plan that you follow whenever you floss will guarantee that you leave no area untouched. As long as you stick to it, you shouldn't have any problems!
Just be sure to watch out for these common mistakes, and keep flossing! Your teeth will thank you.