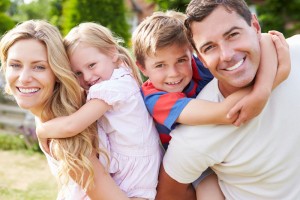 Father's Day is right around the corner and everyone's searching for the perfect way to show Dad how much he's loved and appreciated. What better way to share your love and affection than giving your dad or husband the gift of a handsome, flashy new smile? Today's cosmetic dentistry options make it easy to give dad a Father's day present that's as unique as he is.
Cosmetic Dental Treatments for Father's Day
Studies have shown that men are substantially less likely to smile than women, and even when they do, many tend to feel insecure about the state of their teeth. Whether it's crooked teeth, unsightly yellowing, or a combination of multiple cosmetic flaws, your dentist can help! Professional teeth whitening can transform a stained, dingy smile in as little as an hour or over the course of a couple weeks at home, depending on the type of treatment Dad prefers. Porcelain veneers effectively erase common problems like gaps between teeth, cracks or chips in enamel, and stains that are resistant to whitening treatments.
Of course, if Dad's smile is just fine aesthetically but could use a thorough cleaning, why not treat him to the pleasure of that unparalleled "just-from-the-dentist" clean feeling we all love so much? However you choose to celebrate your father this year, he'll be sure to thank you for thinking of such an unexpected and unique gift.
Give the Gift that Keeps on Giving
Father's Day is the perfect time to give the special man in your life a real reason to smile: cosmetic dentistry services that suit his lifestyle. He'll thank you for your thoughtfulness on his special day and every time he shows off his pearly whites all year round!