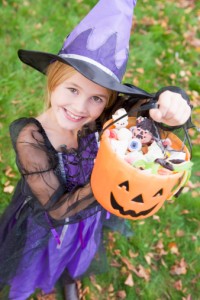 Halloween is undeniably a favorite holiday for millions of children from across America, offering the perfect opportunity to dress up in creative costumes and bring home tons of sweet treats. While we'd never discourage any of the festivities and fun of trick-or-treating, we do want to emphasize the importance of keeping those precious pearly whites healthy this holiday season. With preventive dentistry solutions like dental sealants and fluoride supplements, we can help ensure your child's continued oral health all year round.
Preventing Cavities this Holiday Season
The two most common childhood dental concerns are tooth decay and periodontal disease. Because prevention is always the best medicine when it comes to your child's oral health, routine dental exams and cleanings are integral to a future of healthy smiles. Particularly around the holidays, it is important to consider the effects of sugary treats – including Halloween candies like lollipops, chocolate, and candy corn – on a child's vulnerable teeth. Your child's tooth enamel isn't as resistant to plaque buildup, so twice yearly cleanings are vital.
During your child's dental visit, ask about dental sealants and fluoride supplements. Dental sealants effectively protect teeth from cavities, especially in hard-to-reach places like the first and second molars. Fluoride supplements can actually fortify tooth enamel, remineralizing the surfaces of the teeth to further ward off attacks from cavity-causing bacteria. After your child is done divvying up all of his or her favorite treats from Halloween, consider donating the excess to a Halloween buyback program. This will help keep those cavity-causing temptations out of reach, further protecting your child's smile.
Keep Your Child's Smile Shining Brightly!
Your child's dentist is your ongoing partner in building a strong foundation for oral health in the future. If you have questions about preventive dentistry services, including fluoride and dental sealants, contact your local dentist's office for more information.