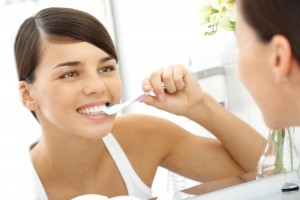 Most people know that good oral hygiene includes brushing your teeth at least twice a day. And for most, those two times are usually in the morning—as you're rushing to work or getting the kids off to school—and at night, when you're fighting to keep your eyes open before falling into bed. Regardless of whether your day is beginning, ending or somewhere in between, proper brushing is worth the time and effort for good oral health.
First off all, did you know that proper brushing requires at least two minutes? Most adults spend a fraction of that time brushing their teeth every morning and night. Try looking at the clock when you start brushing, then brush normally and check the time when you're finished. Chances are you didn't spend enough time to thoroughly clean your teeth. To really do a good job and ensure better oral hygiene, spend two minutes brushing.
What is the Best Technique for Brushing Teeth?
When brushing your teeth, it's important to hold your toothbrush at a 45 degree angle against the gum line and sweep or roll the brush away from your gums. Don't brush side to side, which can scrape your gums. And be sure to use short strokes as you brush away from your gums.
Start out cleaning the outer surface of your upper teeth and then your lower teeth. Continue by brushing the inner surface of upper and lower teeth. Then, brush the chewing surfaces of your teeth, concentrating on your molars. Finally, be sure to brush your tongue, too.
Tools for Proper Brushing
Always choose a soft brush with round-ended bristles. Stiff bristles can hurt your gums. A powered toothbrush can be a good choice, too, especially if you have difficulty brushing because of limited manual dexterity. The type of toothpaste you choose is an individual matter. There are a variety of toothpastes to address a variety of concerns from teeth whitening and cavity prevention to eliminating tartar and reducing teeth sensitivity. Talk with your local dentist about which toothpaste is best for you.