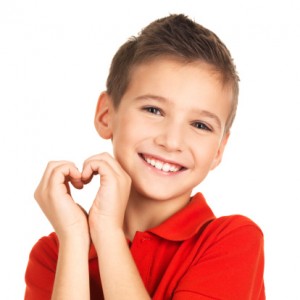 Teeth need love too! Especially your child's teeth. The healthy development and maintenance of your child's first teeth are vitally important to their future health and well being. Primary teeth help children learn to speak clearly and chew naturally. Primary teeth also forge the path that adult teeth follow when they're ready to erupt. Healthy dental care foundations laid early in life will lead your child to positive dental outcomes in the future. You should choose a family or pediatric dentistry with a friendly environment that focuses on your child's growth, development, and oral health education. Prevention, in the form of regular dental checkups, will help you take charge of and protect your child's dental health.
When Should Your Child Start Seeing a Pediatric Dentist?
Children should start having comprehensive dental exams twice a year, beginning around their first birthday.  Their very first visit will establish a positive outlook towards dental care and dental practitioners.
Does your child have a fear of the dentist?
To help a fearful child visit the dentist, talk with them about the visit. Discuss the positive aspects of good dental care, and remind them that going to the dentist is a privilege for big boys and girls. Try not to use words such as fear, needle, pull, drill, or pain. There are many online resources to help you find dental language that is pleasant and non-frightening to children. Try to reassure your child that dentists and dental office helpers will always be gentle and friendly.
Choose Pediatric Dental Care for a Lifetime of Healthy Smiles
Remember, regular pediatric dental visits give children a solid foundation for a healthy life, through adolescence and adulthood. You should look for an experienced and gentle pediatric dental practice in your area. Pediatric dentists have at least two extra years of specialty training following dental school to treat the special dental needs of children. Pediatric dentists can be the primary or specialty dental care providers for infants, children, and teens. Show your love this season, and make a dental checkup appointment for your child with a qualified pediatric dentist today.