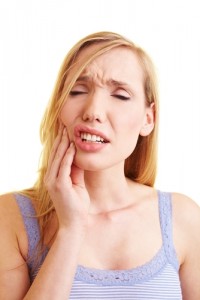 Every year, dentists all across the country hear complaints from their patients about tooth sensitivity. As a common oral health problem, tooth sensitivity is caused when the gums recede, exposing tooth roots. When hot or cold stimuli come into contact with these roots, a sensation is passed through the tubules in the roots directly to the nerve of the tooth, creating pain.
But, you might be wondering, what causes the gums to recede in the first place? Here are five of them:
Age – Believe it or not, aging plays a role in the level of tooth sensitivity you might experience. Research indicates that patients who are between 25 and 30 could experience more sensitivity than patients of other ages.
Brushing Technique – Depending on how you brush, you could be wearing down the enamel on your teeth, in the process exposing the sensitive dentin underneath. What's more, brushing incorrectly can also harm the soft tissue of the gums and cause tooth roots to become exposed.
Bruxism – Bruxism is a medical term for something more simple and common—teeth grinding. Patients who struggle with teeth grinding may, over time, cause hairline fractures to develop in their teeth, making them vulnerable to hot or cold stimuli. What's more, teeth grinding can also wreak havoc on tooth enamel, resulting in erosion of this protective barrier.
Cracked Teeth – When cracks develop in a tooth, it's possible for bacteria to find a way inside, where it can irritate the interior pulp. As a result, teeth can respond negatively, with the end result being sensitivity.
Gum Disease – Gum disease is caused by bacteria and plaque that have built up around the teeth and gums. If left untreated, this common oral health problem will eventually result in the loss of gum tissue. As a result, tooth roots are exposed and left vulnerable to outside stimuli.
How Can I Protect My Teeth?
If you have problems with sensitive teeth, here are a few tips to keep in mind. First, try using a toothpaste brand that treats sensitivity. For many patients, this can bring the much-needed relief they've been looking for. Second, finish your brushing and flossing routine by rinsing with a fluoride rinse. Fluoride draws important minerals to teeth, strengthening them in the process. And lastly, visit your local dentist. By talking to your dentist and letting him or her see your smile, other recommendations can be made about how to help your smile.