While Shark Week continues to strike fear into the hearts of Americans nation-wide, we're keeping on our eye on another, more sinister threat: Gum Disease. We think gum disease is infinitely scarier than anything a silly ol' shark can dish.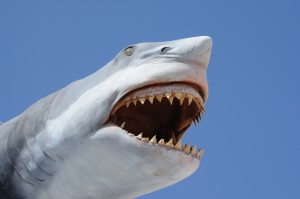 Take a look at these statistics and tell us if you agree.
Sharks: Chances of being attacked by a shark are one in 11.5 million
Gum Disease: Chances of being attacked by gum disease are about one in three (conservatively)
Sharks : Account for less than 1% (way less) of annual deaths
Gum Disease: Accounts for 70% of all tooth loss
Continue reading What Does Shark Week Have to Do With Gum Disease?